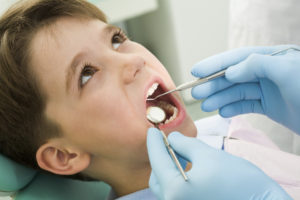 The process of finding a new dentist can be a daunting one, especially when you're looking for a child-friendly dentist that will accommodate the entire family. The office of William J. Holevas, D.D.S. is located in Elgin, IL, and offers full-service general family dentistry. Our kid-friendly dentist works with patients of all ages and has experience treating a variety of dental issues and symptoms. We have a team that is dedicated to promoting the best methods for oral hygiene and will teach your entire family these good habits. Your family will have the tools to ensure their teeth last a lifetime.
From correctly brushing and flossing your teeth to the importance of mouthwash, our team will provide proper instruction. Much of family dental care encompasses preventative dentistry because it's always better to prevent cavities than it is to fill them. However, genetics are a factor when it comes to oral health and it can affect a wide variety of issues regarding your mouth and teeth. Beyond simple cleanings and fillings, we offer cosmetic family dentistry to align, restore and whiten teeth.
Dental Services We Offer
It is pivotal that you combine in-office visits with excellent home dental care. That way your family can maintain the best oral health for many years. With regularly scheduled checkups, cleanings and cosmetic procedures, you can ensure that your teeth are taken care of properly. Our kid-friendly dentist office is equipped with the newest dental practices and technologies, so you can have an array of procedure all handled in-house. Having the same dentist, who is familiar with your whole family's oral history, is a huge benefit.
These are some of the general family dentistry services we provide in Elgin, IL:
Emergency Dental
Tooth Extractions
Dental Implants
Dental Restoration
Pediatric Dentistry
Root Canals
Special attention is given to preventative oral care for children. William J. Holevas D.D.S., LTD is a kid-friendly dentist who is committed to ensuring your children are taught how to brush and floss correctly. We trace tooth and jaw development as well as administering topical fluoride and sealants to help your kids keep top-notch dental health. In addition, our family dental care is designed for the whole family to receive oral health checkups and analysis of orthodontics problems.
Choose Our Office
Finding a child-friendly dentist in Elgin, IL, you can trust may be challenging for those who are nervous about the dentist. However, our staff works closely with all our patients to put them at ease while receiving high-quality treatments. Rest assured, our entire staff receives the extra training needed to work with our smallest patients. Call us today at 847-742-4214 to schedule an appointment.